Let's wait some days… If nobody join I turn on latejoin
Am I correct in saying it looks like the game has been started with BBG v5.2.5? Isn't it supposed to be v5.1.8? BBG 5.2.5 is in red and I can't Load Game: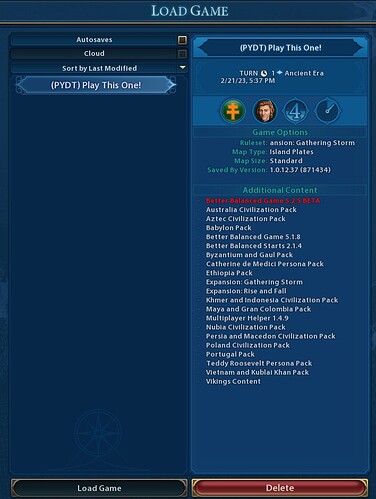 This game has been reset by the admin.
I'm confused. was I booted from the game or something?
?? idk. only from game reset or something…
@coolmajaka That tile buying. Really disappointing dude.
Excellent news! If I am making my Civ opponents feel content, I'm not doing my job

Hi All. I will be on vacation from 3/29 to 4/11 and cannot access a computer. It would be much appreciated if the game could be paused during that time.
Are we pausing the game for Beaveroti?
sure, since he asked for it in advance. we could remove the timer and maybe he'll play whenever he has a chance to keep the game moving.
We should either leave the timer on for the duration of the game or completely turn it off, for the purpose of fair play.