Joined!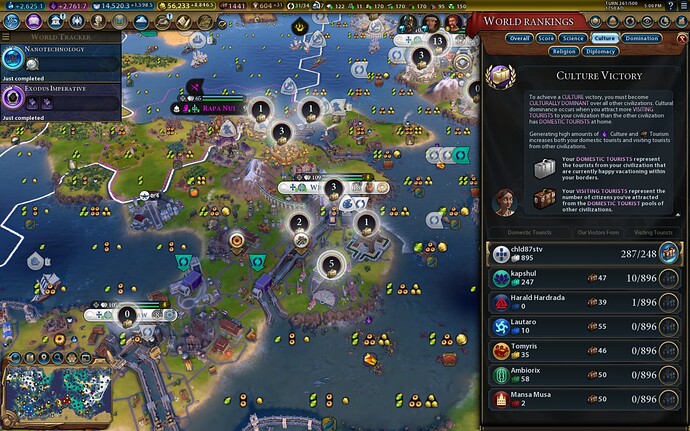 I was able to manage a culture victory thanks to a good match between the random map type and my random civ. Thanks for a great game! Care for a rematch?
Great game! Thank you!
I'm not so good as you.
But if you don mind we can play one more game.


Only one thing. How about to setup the strongest AI?
Great! I've setup another game here: https://www.playyourdamnturn.com/game/d727e7f4-f283-4f8d-85a0-c996892a4480
Password: rematch
One question: I had the AI set to Settler level and the players set to Deity level for this game – I don't know how to make the AI any stronger than that. I'll setup a new game for us with the same settings as last time, but if you know of a way to make the AI even stronger, please let me know!
I've tried to make AI smarter… but there is no way… there are some mods that promise to make it smarter but it's just a bit less stupid, not a good rival, that's why I always play with no AI's because you can abuse them very easy with stupid trades, conquering their cities, stealing settlers or builders, and so on; but as AI's also can't communicate they don't ask for help or play with a planned strategy, playing with AI's it's a very boring race to see who can abuse more of them, I recommend not to play with AI's.
Setup max level for pc
We can try AI++ mod.