The background is that people usually sort by timezone, so if two consecutive players have similar timezone it's unlikely for one them to need to wait 16 hours to take a turn after another. But some people play in the day, some play at night, some are late owls some are early birds. So a better way is to look at past data to see how likely is it for them to take their turn at certain hour, and optimize the turn order based on that.
Two methods are listed below.
Request a sort from @Valamas
I have player turn data where I run players through simulated games to determine their sort.
The results so far have been very good. However, it requires that players have at least 30 turns in their history. This is in test before it becomes part of PYDT. (Talk to me any C# or mathematical genius')
To request a sort please ensure the following.
You game is filled with players and you are almost ready to start.
Private message me in discord for a sort by supplying the names of the players as a list (Please be accurate with spelling / spaces etc).
Player One
Player Two
Player Three
Player Four
…
Ill try to reply as soon as possible.
(can sort teamed games too)
… or Work out your own sort
Download:
advanced player sort.xlsx (11.9 KB)
All Players
Set your time zone and include start time in that comments
Here: Play Your Damn Turn!
Here is mine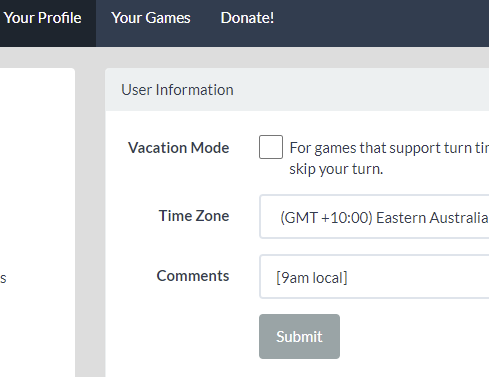 Game Masters creating new PYDT games
One wrong sort can lead to longer games.
Every player should have their time zone set in their profile. You need to ask all players to do this and also include their preferred start time. So ask for them in Smack Chat!
How to sort
When creating a new game, you will need to ask people to set their time zone and at the very least mention their starting time in smack chat. Despite the calculations, it is easier to ask for a local time.
The method uses a little math. I have attached a spreadsheet if you wish to download, modify and use.
Manual method to work out sort.
If the start time given by the player is in UTC - look no further.
Otherwise we must convert the local time to a UTC start time.
UctStartTime = LocalStartTime - Timezone
Then sort players by the UCT starting at largest negative, keeping in mind that you are the first player.